Mobile Number Portability (MNP) is a service offered by all mobile service providers that allows you to switch over to another service provider while retaining your existing mobile phone number.

Here is the List of Some FAQ Related to Mobile Number Portability (MNP)
2. How will you benefit from MNP?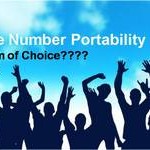 You are free to choose a new mobile service provider without having to change to a new number. You don't have to notify friends/ family and associates about your new operator when you move to  any other operator. Just use your phone like you always do.
3. How long does it take to port a number?
The entire process of porting takes approximately 6 days. The exceptions are J&K, Assam & the North Eastern regions where it will take 10 days from the receipt of porting clearance from the donor operator (operator that you are leaving).
4. Who Can Port ?
You are eligible to make a porting request if you have: An active connection that is at least 90 days old (as counted from the date of new activation or the last port date) No payments outstanding to the donor operator (operator that you are leaving) No requests pending for change of ownership of the number
5. Limitation in joining/porting Mobile Operators ?
[ad#336×280]
Postpaid customers cannot port in/out if they have overdue bills. All existing credit available to Prepaid customers will expire upon successful porting and will not be carried forward. Call charges, plans and VAS offered by current service provider may differ from that offered by your earlier service provider.
6. What documents must a Prepaid/Postpaid customer submit while making a port in request ?
The customer will have to submit the same documents as any new customer. These include the new provider Customer agreement form (CAF). You will also need a self-attested photograph and an address proof with your signature.
7. Can a single employee series of corporate number be ported out?
Yes, as long as the employee submits an approval from the authorised signatory to the donor operator and it is also subject to meeting the porting criteria for the entire account.